Ishi Khan- Jackson: Stand Up Comedienne
Hello fun-lovers! :)
I'm a happy soul who's been making people laugh since I was born - I came out crying and everyone else was laughing!!
I'm currently touring my first full-length one-woman show "I Am Happy!". Find out more about my show here
Read my full bio and CV here
I love spreading joy & laughter across the globe. Here are some of the fun places I've performed to lovely laughing souls:
The Y Theatre, Leicester; Komedia, Brighton; Cookie Jar to a full house on opening night of Dave's Leicester Comedy Festival; Leicester Square Theatre, London; Platinum Suite, Leicester. Muslim Khatri Association celebrate Queen's Diamond Jubilee; Curve Theatre Bollywood Comedy Show Compere; Vista Funday; Garage Comedy Club, Swansea; Impro Viva's improvised comedy at Belgrade Theatre, Coventry; On the Red Sea to an audience of 800; Before my bedroom mirror!
I've had lots of fun playing the lead in these theatre productions:
East Side Kahani at Loughborough Town Hall. June 2010
East Side Kahani was based on West Side Story with a Bollywood slant. I loved playing lead with a lovely cast drawn from various faith groups in the community. It was such joy to choreograph the lovers dance. I got involved with script editing, sourced & funded my own costumes.
As Aladdin in Aladdin Feb 2012
Part of Dave's Leicester Comedy Festival, I had fun rubbing lamps & exploring caves as Aladdin. (http://lborofaiths.org.uk)
I also enjoy performing improvised comedy, with Nottingham's MissImp and UFI in Leicester.
I love chatting on radio, having co-presented on Oak Fm's Asian Connections with Deedar Bahra. I occasionally pop into BBC Radio Leicester for a discussion on my shaving habits! Thank you Damien! :)
It gives me great joy to intuitively adapt my performance to suit your event's needs. Tell me what sort of event you are planning. Conference/ a family friendly night / a party / festival. Either way I look forward to spreading fun & absolute hilarity!
Get in touch to spread the laughter epidemic! Let's have your your guests laughing themselves Ha! Ha! Ha... PP... HEEEEEE!
Love, light, laughter Ishi xxx
QUOTES
Ishi Khan Jackson may be small but her energy and positivity certainly makes up for it. Dancing her way through her first ever 1 hour show Ishi kept the audience engaged with stories of her upbringing. It's pretty safe to say that you come out of Ishi's show feeling uplifted, if not wanting to get up on stage and join her in dancing!" Nottingham Comedy Festival Sept 2011http://www.nottscomedyfestival.co.u
"Very helpful to everybody!" Mrs Hamwene - 1st grade teacher in Zambia.


"Hotter than a hot Madras!" Oct 2010 Laffacino's Birmingham Comedy Festival
Check me out at Dave's Leicester Comedy Festival 2012 in this fun video...
"Ishi is very fun and entertaining! Full of energy and made us all LOL!" Barefoot Festival 2010 & 2011,
www.barefootfestival.com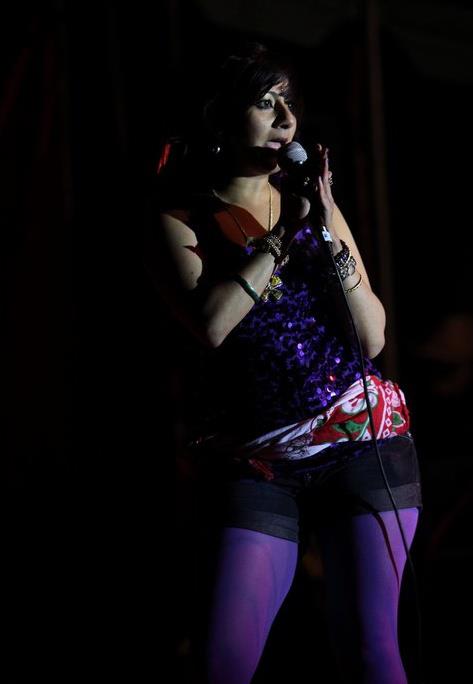 "Excellent! We loved Ishi's contribution at the International Women's event. It resonated with the entire audience!" Dr Lorna Cork MBE
www.drlornacork.com